The 2021 Subaru Love Promise Community Commitment Award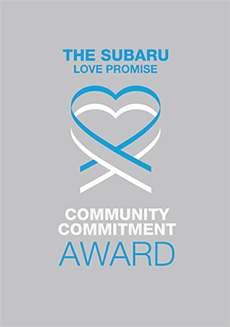 We've been nationally recognized for our dedication to our community and the Subaru Love Promise.
We're honored to receive the 2021 Subaru Love Promise Community Commitment Award. This award nationally recognizes Subaru retailers who are making the world a better place while demonstrating an outstanding commitment to supporting passions and causes in local communities. These efforts are focused in important areas such as the environment, community, health, education, and pets.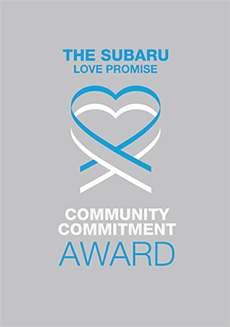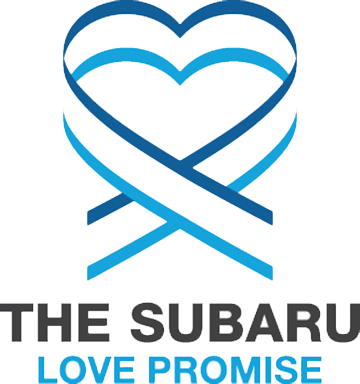 What is the Subaru Love Promise?
Subaru and our retailers believe in making the world a better place and the Subaru Love Promise is our vision of respecting all people. This is our commitment to show love and respect to our customers and to work to make a positive impact in the world.
How is Groove Subaru dedicated locally to the Love Promise?
Yes - A little word that does big things. In many ways, Groove Subaru is a little company that does big things. Yes is the one word that says it all. It not only expresses our desire to meet your needs, it expresses positivity, passion and fun. You can expect ease of doing business, to hear solutions, a can-do attitude from each and every one of our Groove Subaru employees. Yes is a powerful word, and it's surprisingly simple. Groove Subaru believes in YES.
Dumb Friends League Furry Scurry
Groove's Drive for Education
Groove's Drive for Education
ALS Therapy Development Institute
Love Promise Stories from Groove Subaru
Subaru and Groove Subaru believe in making a positive impact on the communities in which we live and work. We uphold that belief through our Love Promise Community Commitment. Every month, we select inspiring stories from customers and partners from around our area who strive to support our collective commitment and feature them here
Groove Subaru's Passion for Pets in Need - Rebecca O
The Dumb Friends League is proud to call Groove Subaru a partner in our mission to end pet homelessness and animal suffering in Colorado. Groove's philanthropic support – including sponsorship of our annual Furry Scurry and a contribution in honor of pets adopted from our shelters in October – have had a meaningful impact on our work. Perhaps just as importantly, the Groove team's passion for pets, plus a willingness to get directly involved in helping pets in need, has made a difference to the League and the animals in our care. From joining fellow Coloradans to walk for homeless pets in the Furry Scurry, to donating stuffed toys that provide valuable enrichment to the dogs in our shelters, we have seen the Groove team truly embody the spirit of "Subaru Loves Pets." Thank you for championing pets in need in our shared community, and for joining us as a partner!
---
Groove Subaru, Keeping the Community Warm! - Christen M
Groove Subaru was so generous in providing Family Tree's Women and Children's Shelter, House of Hope, with blankets that can be used all year round. When folks experiencing homelessness come to our shelters, they often have very few belongings. Thanks to the donation from Groove Subaru, we can be sure they have their very own blanket when they arrive. Items like this not only make families feel safe and warm, but help them know that they are one step closer to home. Thank you Groove Subaru!
---
Helping Homeless Pets Like Rusty Find New Homes - Rebecca O
During the month of October, the Dumb Friends League was fortunate to partner with Groove Subaru for Subaru Loves Pets Month. Groove Subaru became champions of pet homelessness by donating $100 for the first 31 dogs and cats that were adopted in the month of October at the League, pets like Rusty who were given a fresh start and another chance to find a loving home. Rusty came to the Dumb Friends League on Tuesday, October 6, 2020. Rusty, at 11-years-old, had started to show aggression towards familiar people and dogs, and his family did not know what to do. Rusty's previous owner did not have the capacity to help him and brought Rusty to the Dumb Friends League Leslie A. Malone Center where they knew Rusty would receive support from trained behavior specialists. Like all pets, Rusty was given a medical and behavioral evaluation and staff determined that his aggression was likely due to fear, and he was enrolled in the League's Canine Courage program. This program, offered at the League, helps dogs like Rusty overcome their fear using positive reinforcement. After several days and plenty of patience, the behavior team learned that the little dog's trigger was abrupt movements and were able to help him build confidence and get ready for adoption. Meanwhile, in Aurora, a woman named Sharon, who recently lost her senior dog, was ready for someone to fill the hole in her heart. When she saw Rusty online, she knew Rusty was the perfect fit for her family and jumped in the car and headed straight to the Leslie A. Malone Center to meet him. "I thought he was really cute," she confessed, "and he really liked me." After a smooth and easy adoption process, Sharon and Rusty went home on October 13. Over the next few weeks, Rusty settled into his new surroundings and to his new family. Sharon was patient and adjusted to Rusty's needs. Eventually, his big personality shined through in the little dog. Sharon said Rusty goes back and forth between his doggie bed and kennel but loves sleeping in his dog parents' bed at night. He enjoys car rides and has a lot of energy and spunk for a dog his age. He likes to play keep-away with his toys and loves shredding his toys to pieces. When asked how Rusty is doing today, Sharon mentioned, "It's going really well, and we are really happy with him. Rusty's calm most of the time, as long as people do not rush towards him." Rusty has grown accustomed to being a part the family. He loves the grandkids and Sharon, but Rusty has become especially close to Sharon's husband. "My husband is disabled, and Rusty has become really protective of him." Even though Rusty favors his new dog dad, he still makes time for Sharon. "Life was pretty lonely before, since my husband sleeps most of the time, so I started talking to the dog. I am still waiting for him to talk back. He's a really good puppy and we are really happy with him." From the heart of the shelter to the heart of the home, Groove Subaru has helped dogs and cats find their place in the world again. We are proud to partner with Groove Subaru and beyond grateful for their support in creating precious adoption moments for homeless pets like Rusty.
---
Groove Subaru & the 2020 Furry Scurry - Rebecca O
Groove Subaru joined the Dumb Friends League's sponsorship community as a Bronze Sponsor of our 2020 Furry Scurry, which kicked off on May 2. The Furry Scurry has been a beloved annual Colorado tradition for many years, and this event shifted to a virtual format in 2020 for the first time due to the COVID-19 crisis in our community. Despite this unexpected shift, our community of partners and participants came together, stronger than ever, to celebrate the vital role that pets play in our lives. Groove Subaru's unwavering enthusiasm and support, particularly as we shifted to a new event format, was incredibly meaningful for our organization. From providing sponsorship support, to sharing Subaru dog toys for event participants, to a great enthusiasm for the League's mission and work among Groove Subaru staff, we are incredibly thankful for everything you did to make this event a success. Your support of the League and trust in our work helped us raise more than $584,000 for homeless and neglected pets in our community – with nearly 3,000 participants! Groove Subaru's compassionate approach to pets in need, willingness to share our mission and work with your own community, and sponsorship support all helped us achieve this goal. We are honored to call Groove Subaru a Furry Scurry partner!
---
Sharing the love for ALS research! - Emily D
Through Subaru's "Share the Love" event, Groove Subaru has raised over $150,000 for ALS research at the ALS Therapy Development Institute (ALS TDI). I have been a researcher at ALS TDI since 2007, and I am so grateful for the opportunity to work on developing new potential treatments for a disease that currently has no cure. The progress we are making can really be attributed to people sharing the love. Whether it is the family and friends of people living with ALS raising money through neighborhood fundraisers, or great organizations like Subaru who are dedicated to giving back, the drive to keep things moving ultimately comes back to the love our supporters have for our ALS community. Thank you to all who donated to help us keep our research going forward in high gear, no matter how crazy of a year it is!
---
A Summer of Global Citizenship! - Clara B
Our Subaru Drive for Education Grant made our Explorers Summer Camp a success! Our grant supported the implementation of "Green Initiatives," such as Rooftop Solar Panels, the implementation of Recycling Practices and our Garden Patch. Our grant allowed to purchase a compost bin - which made composting a part our day- everyday! Our grant also sponsored outside exploration (aka field trips,) guest speakers/visitors (such as Hawk Quest and Beth Epley) and activity materials (for our water wall) - which all complemented our camp activities. Our funding allowed campers to do a variety of activities such as making solar quesadillas, building solar cars, recycle art and building a water wall- which was fun way to conserve water (while still paying with water.) Our campers also spent a significant amount of time in our Garden Patch. They learned about the role composting plays in the gardening process and how important Earthworms are in the process. Yes, they played with Earthworms. Primrose School of Littleton teachers and staff wish to inspire creativity during play, foster compassion through action and encourage resourcefulness through outside-the-box thinking. For a balanced summer program, we incorporated a STEAM curriculum. STEAM skills of Science, Technology, Engineering, Art and Math were added during our camp to help build a foundation for learning. Whether getting their hands dirty in the garden, playing with earthworms or going on educational field trips, our campers became more environmentally aware one activity at a time. Through hands-on activities, discussions and playtime campers learned how their actions impact the environment. Our grant allowed our campers to learn the importance of being a global citizen with the financial support of our program.
---
Groove Subaru Donates $5,000 to Folds of Honor - Larry R
The Mission of the Folds of Honor is Singular, to provide Educational Scholarships to the Spouses and Children of Wounded and Fallen Service Members. In 12 short years we are able to provide almost 25,000 Scholarships, which in return helps Military Families with their Dream of going to College. We are Honored to Partner with Groove Subaru to help us on our Mission to Honor their Sacrifice and Educate their Legacy. During their Memorial Day Sales Event they were able to donate over $5,000 towards a local educational scholarship right here in Denver.
---
Groove Auto Helps Students Find Their Future - Shannon H
Together with the Five Star Education Foundation, Groove Auto made a huge investment in the future of Adams 12 Five Star students in Colorado. With a grant from the dealership, the Foundation was able to launch an innovative project that will have a lasting impact in the community. Called the Career Discovery Playbook, students who are taking career based classes are creating an innovative guide for all students in the district. The guide will tell the story of students who have taken classes in automotive repair, construction, graphic design, engineering, business, welding, video production and more. It will describe what students can learn and talk about students and where they are now. The other half of the book is contributions from businesses who want to hire these students, the career pathways they can expect and how the company will support their ongoing education. They will also tell success stories about people in their company who started on the same path. This engaging piece will be in the hands of every high school student in the district by the beginning of next school year. "We are working to flip the paradigm" says Executive Director Shannon Hancock. "No longer is the question, 'do you want to go to college or not'. Instead, we are engaging ALL students by asking, What do you want to be? What education do you need to be that? and Where do you need to go to get that education? This change in thinking keeps our students thinking of themselves as lifelong learners." The contribution from Groove Auto will help tell the story of what students can do in the automotive industry and how they can envision their future. Thank you Groove Auto for joining us in this awesome endeavor!
---
Groove Subaru Donates to Local Denver Schools - Carter B
On Sept 17th, 2019 Groove Subaru in partnership with Groove Auto held their annual Drive for Education® grant presentation donating over $55,000 to 34 local schools. The Drive for Education program, in its tenth year, uses proceeds from vehicle sales to fund grants supporting education in the local community. This year's grants funded everything from iPads, books, instruments and unique learning spaces to programs for students with special needs. Groove also announced their upcoming partnership with The Colton Underwood Legacy Foundation. Colton's foundation works towards empowering people living with Cystic Fibrosis. By providing resources and support to help manage their health and medical challenges. This event is one we look forward to every year," said Rob Edwards Groove Auto's Regional Vice President. "What a blessing it is to be able to hear about all of the programs that are going on in our going on in our local schools and to feel the excitement and energy of the kids. It's truly magical and we are excited to be along for the ride! Since its inception in 2009, the DFE program has contributed over $530,000 to Denver-area school and our local community.
---
Sharing the love for ALS research! - Emiy D
Through Subaru's "Share The Love" event, Groove Subaru raised over $36,000 for ALS research at the ALS Therapy Development Institute (ALS TDI). I have been a researcher at ALS TDI for 13 years, and as a nonprofit biotech the progress made in research can really be attributed to people sharing the love. Whether it is the family and friends of people living with ALS raising money through neighborhood fundraisers or great organizations like Subaru who are dedicated to giving back, the drive to keep things moving ultimately comes back to the love our supporters have for our ALS community. Thank you to all who donated to help us keep our research going forward in high gear!
---
Groove Subaru & LLS Bring Warmth to Patients - Julie J
On July 9th The Leukemia & Lymphoma Society and Groove Subaru delivered blankets and arts & crafts kits to Presbyterian St. Luke's Hospital, Colorado Blood Cancer Institute and Rocky Mountain Hospital for Children. We started the day at Colorado Blood Cancer Institute delivering blankets to patients who were in for the day. We then moved over to Presbyterian St. Luke's to the Bone Marrow Transplant floor and delivered blankets to patients and their families who were going to be in the hospital for a while. Then we walked to Rocky Mountain Hospital for Children and delivered the rest of the blankets and arts & crafts kits to the kids and their siblings. Groove Subaru and The Leukemia & Lymphoma Society were honored to spend the morning with the staff, patients and their families.
---
Groove Subaru & The Leukemia & Lymphoma Society - Beth M
Partnered with The Leukemia & Lymphoma Society, Groove Subaru delivered blankets, bags and care cards to the patients at the ColoradoBlood Cancer Institute on July 11, 2018. Jonathan Norris, a representative from Groove Subaru, is ayoung adult blood cancer survivor and enjoyed visiting with the patients duringthe blanket delivery. Because the Colorado Blood Cancer Institute doesn't workwith the pediatric population, Groove Subaru and The Leukemia & LymphomaSociety took the arts and crafts kits to the Rocky Mountain Hospital forChildren, located in the same building. They also delivered to Presbyterian St.Luke's. Colorado Blood Cancer Institute, Rocky Mountain Hospital for Children andPresbyterian St. Luke's were very excited and appreciative of the blankets.
---
Subaru & LLS Deliver Blankets to Cancer Patients - Beth M
Groove Subaru, in partnership with the Leukemia and Lymphoma Society, participated in a "Share the Love" campaign to help blood cancer patients at the Colorado Blood Cancer Institute. Team members from Subaru, LLS and CBCI donated 80 warm, fuzzy blankets with care cards and messages of hope from the community. They also delivered 10 care kits to younger patients so the children could draw, do crafts and break away from hospital life. The program is a great way for LLS and Subaru to connect with local hospitals and help blood cancer patients. "It was a rewarding experience to be able to brighten the patients' day and wrap them in love by providing the Subaru blankets! The cancer journey is tough, so to lift their spirits is a wonderful feeling," LLS Sr. Campaign Director Beth Muehlethaler said.
---
Subaru and NWF Love the Earth! - Sue P
We planted the perennials that you sent. The students were so excited to start the garden. Unfortunately, the additional supplies (bird houses, birdbath, feeders etc.) did not arrive until the last day of school. I didn't want to put them out without student participation, so I will wait until the students come back in August. I will send more pictures then. Most of my students have not had the opportunity to experience nature, so they are genuinely excited to be part of the creation of our backyard habitat. We are so grateful!
---
Groove Subaru Donates funding to Local Schools - Justin M
Groove Subaru, in partnership with Groove Auto, is proud to announce its 2016 grant donation of $69,000 awarded on behalf of its "Drive for education" (DFE) program. The program, in its seventh year, uses proceeds from area car sales to fund grants awarded to neighboring schools. Everyone from principals to teachers and parents can apply for DFE grants to fund supplies and programs for their school of choice. This year's grants were awarded to 28 schools to fund everything from Google Chromebooks, to leadership and outdoor programs as well as an entirely new course on science and energy for one school. "We understand that there is an ongoing challenge for schools to find funding and we want to do our part to help," commented Groove Auto regional vice president, Rob Edwards. "These schools and teachers have the ever-important job of educating our future generation and we couldn't be happier to help give them the tools to do just that." Since its inception in 2009, the DFE program has contributed over $221,000 to Denver-area schools.
---
Many thanks to Mark Weadick and R.J. Dwyer - Carol and Jeff M
Gentlemen, I was dropping off my Subaru this evening for my regularly scheduled service at Groove on South Broadway in Englewood. My husband was on his way to pick me up when HIS car broke down. Mark Weadick and R.J. Dwyer were the two gentlemen who took my Subaru in for service and offered to help me out by providing a loaner for my use to retrieve my husband and have a car while my Subaru is in for service. Mark and R.J. were exceptionally nice and even offered to help if my husband could not get his car safely to the Toyota dealership for service on his Lexus. We were unsure that my husband could make it to the Lexus dealership in Greenwood Village, so Mark gave me the name of the service manager at the Toyota dealership next door to Groove and offered to call him in the morning to make sure my husband's car was handled with care as he is not a regular customer of Toyota. While I was tired after a long day of work and was unhappy that we were having car problems with my husband's car, Mark and R.J. went over and above by offering their help and providing exceptional service to me and my husband. Car problems are never fun, but with the face of Subaru represented by gentlemen like Mark and R.J., a trying situation was certainly much more pleasant. Many thanks to Mark Weadick and R.J. Dwyer!!
---
Groove Subaru Loves Planet Earth! - Justin M
Throughout the month of April, Groove Subaru took part in Subaru's "Love the Earth campaign". During the month, a large White and Green box was placed in our showroom for people to recycle their old electronic equipment. We received many donations and are very proud to have helped facilitate this real-world recycling event at our store. Thank you to all who donated to show our planet some love!
---
Feeling the Love! - Tara R
Today, members of our fundraising and development team met with Groove Subaru in Englewood to accept a $12,000 check in support of our organization and the people with HIV and AIDS who we provide services to. Thank you Groove Subaru for raising this money and for your commitment to keeping Colorado communities safe!
---
Visually Impaired Students' Program awarded $3500 - Amber R
For the first time ever, Englewood Schools has two braille learners. We are developing our program and services to encompass all of the things these students need to learn in order to be successful. From learning to ride RTD to how to operate the functions on an Ipad, these kids are competing with fully sighted peers, in fully integrated classrooms. I wrote this Drive For Education grant in hopes of securing funds to create more opportunities for all of the students with visual impairments in Englewood schools. These funds will be used to create opportunities for community outings, to build tactile libraries for our students with severe needs, and to buy supplies for activities such as cooking, recreation, and social skills development. From white canes, to puffy stickers, this money will help provide additional resources to our blind and visually impaired learners. Thank you, Groove! We are looking forward to sharing some examples of the projects we create from your generous gift.
---
I am a Subaru owner for life - Wesley B
Michael at Groove Subaru was easy to work with, friendly, prompt and straightforward. He wasn't pushy and made sure that the car we bought was exactly the way we wanted it. He went out of his way to find the exact car we wanted, which happened to be in a different state, and had it delivered for us. I am a Subaru owner for life and Michael strengthened the relationship. 110% satisfied!
---
I wouldn't take my car in to any other dealership - Susan V
I am constantly wow-ed by the fantastic customer service within the mechanic's shop and the sales department at Groove Subaru. This is our third vehicle there and I hope to keep coming back again and again! There is no pressure to buy and we've consistently gotten great deals. And the mechanics are FANTASTIC! I wouldn't take my car in to any other dealership.
---
Donating To The Active Youth Of Our Community - Sara S
Robert Farnett, GM of Groove Subaru awarded $3,500 to the Colorado Rapids Youth Soccer Club on Tuesday October 28th, 2014 as part of the Groove Auto Drive For Education Foundation. Sara Shanley accepted the donation and was grinning from ear to ear while at the Dealership. The funds will be used to help support the program which provides education and training to four different age groups. The Colorado Rapids Youth Soccer Club's is serving 1,500 children with Soccer for Success in the Denver Metro area. Soccer for Success is the U.S. Soccer Foundation's free after school program that uses soccer as a tool to address children's health issues and juvenile delinquency, while promoting healthy lifestyles in urban undeserved communities. To find more information about how you can get involved please visit www.rapidsyouthsoccer.org/soccerforsuccess. The Drive For Education Foundation was created by the employees of Groove Auto as a way to make an impact in the local neighborhoods where they work and live. By committing a portion of the sale of every vehicle to the program, they are able to give over $100,000 a year in funding to local non-profits and schools. In 2013 The Drive For Education Foundation gave $120,000 to local schools, organizations and non-profits and in 2014 they are planning on exceeding that number.
---